A group of alleged armed robbers in Ibadan share group photos on the social media page of their victim; after snatching phones at gunpoint. An Instagram user identified simply as Adewunmi cried out for help; after seeing activities on her social media page almost six months after being robbed of her belongings.
According to the victim of the attack, the suspected armed robbers shared group photos through her Snapchat account; which was signed in on the phone at the point of the robbery.
"Those guys rob us on October 3 sunday 7:55pm 2021 at Ventura side sango Ibadan. They use gun to take our phones away after they use one of the phones Snapchat to snap this picture," she wrote.
Also Read: How Russia invasion of Ukraine unfolded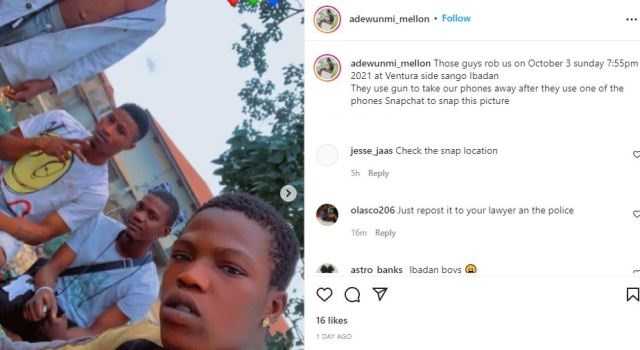 In other news, video footage captures the moment a man caught his friend and his girlfriend, where said friend was sleeping with girlfriend behind a building. In the short video, the man who took them unawares captured a bit of the activity; before they realized that they have been caught.The enraged man advanced towards them; while yelling at the top of his voice. The lady on her part could be seen pleading; while the man she was caught in the act with reiterated that it wasn't his fault.
The betrayed man could also be heard berating his friend for ingratitude; asking how this happens to be the payback gift he gets after all he had done for the friend.