Followers of popular TV series, House of Cards, get to have an adrenaline-pumping twist and true political thriller. However, they know that Frank Underwood is the master pulling the strings. However, what is happening in the fictional House of Cards is absolutely no match for the drama in the All Progressives Congress (APC).
This is politics at its raw form. We can only hope that writers in our own Nollywood are watching. And where is Patrick Obahiagbon when you need him to describe this "Higi Haga" that is snowballing within his party; a "crinkum crankum" of an "odoriferous, gargantuan gaga."
Obahiagbon said these famous words in the build-up to the 2015 election. The events that birthed these words pale in comparison to what is happening right now. While the maneuver of 2014 had all the trappings of iceberg, meander, oxbow lake, cataracts and the like; this one is filled with moves that although silent, are earthquake-like in comparison. While proxies are making noise, the big wigs are in the background like Frank Underwood.
For lots of people watching on the sidelines; the shenanigans in the APC would be viewed as move against Adams Oshiomhole and Bola Tinubu. Of which they may be right. But then, the question is, who are the beneficiaries if these crises should indeed herald a political mortality?
ALSO READ: Edo 2020: Obaseki will not get the Ambode treatment –  Seye Olaniyonu
This crisis is not an Edo crisis. It is just a battleground. The same way Ondo, Osun, Ekiti, Anambra will all be a testing ground for political influence.
The rumbles in the APC  is all about 2023 and who will replace President Muhammadu Buhari.
Following the mass exodus of Atiku Abubakar, Bukola Saraki, Rabiu Kwankwaso, Aminu Tambuwal and others; the power base in the APC became clearer. President Buhari at the very top and closely followed by Bola Tinubu's camp, with several others positioning themselves strategically.
Also, as I have stated on several occasions in this column, Buhari is not a reliable ally to have; although his loyalty to his friends is legendary. However, his peace-making skills are, for want of a better word, "shitty" (pardon my French). Even his ability to keep the peace in his immediate family will not fetch him a national prize; not to talk of the Nobel Prize for Peace. He could not intervene in Zamfara, Rivers, Ogun, Imo, and lately, Edo state.
Now that President Buhari is not seeking re-election, he is even more dangerous. Everyone needs him, but he does not need them. That is why the decision to back Victor Giadom should not have come as a surprise to anyone. Present a legal argument and you will get Buhari. After all, the same MOP was used against John Oyegun to pave way for Oshiomhole.
Now back to the 2023 arithmetic in the APC.
There is a good reason why there seems to be more movement in the South.
Indeed, there is a legitimate expectation that power is moving to the South, come 2023.
Controlling the optics matters, but strategic positioning matters even more. You are either in the room or have your stooges in the places where decisions are being made. Else, you are out.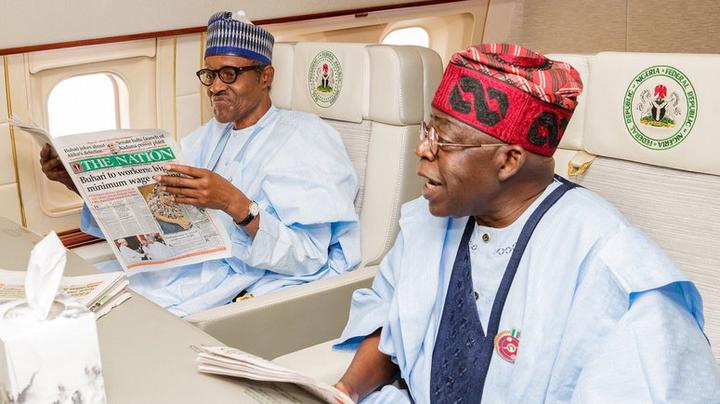 Who are the players?
As it stands, the Minister of Transportation, Rotimi Amaechi and Governor of Ekiti State, Kayode Fayemi; Governor of Ondo, Rotimi Akeredolu and lately, Minister of Interior, Rauf Aregbesola are some of the heavyweights currently.
Amaechi
Amaechi, who was the director-general for Buhari's election in 2015 and 2019, almost lost everything politically in 2015. His lifeline was the ministerial position and a couple of appointments for some of his soldiers.
In 2019, due to his stubbornness, his party was prevented by the court from fielding a candidate at the election. Recently, it appears there are moves to reconcile his base; with the appointment of Magnus Abe, his estranged political ally as Board member of the NNPC. The deposed Giadom happened to be Amaechi's lackey.
Interestingly, Governor Nyesom Wike also holds the leash of the Chairman of the Peoples Democratic Party (PDP).
Could Amaechi be propping himself for 2023? The question is why not? Former Speaker (twice), former Governor (twice), and now, second tenure as Minister. Getting the crown jewel looks tempting. But is it achievable?
Only if he can galvanize the South-South and South-East and pick the right candidate from the North as running mate. But this may prove too herculean a task, with the possibility of success extremely low.
Fayemi
The former Minister for Solid Minerals is also at the heart of the crises in the APC. As the Chairman of the Governors' Forum, his involvement could be viewed from two angles.
First, to regain the powers of the incumbent governors, particularly with Oshiomhole's approach. Also, the treatment meted out to former Lagos State governor, Akinwumni Ambode still remains a bitter pill to swallow; especially for most governors who witnessed what happened to their colleague; how he was embarrassed and disgraced out of office.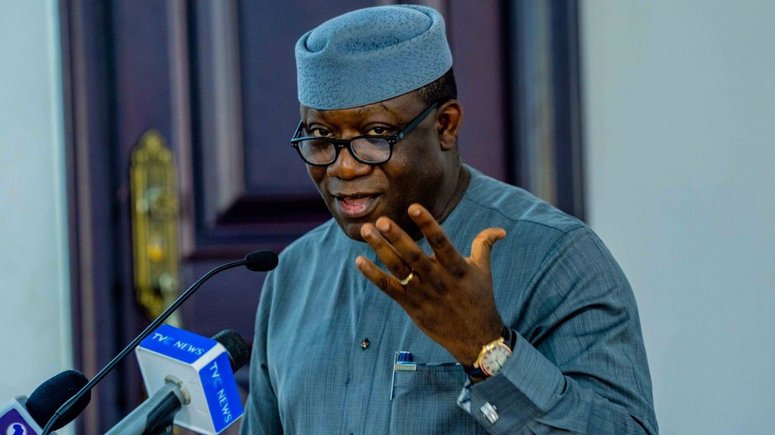 Secondly, Fayemi will soon exit his office by 2022. What will retirement look like? Although he owes his emergence as governor to the doggedness of Tinubu; but as they say in politics, there is no permanent friend, but permanent interest.
Akeredolu
Akeredolu will have his state as another battleground. However, this battle involves his political career, his survival, and as a matter of fact; his deputy just resigned from his party some days ago.
Also, Tinubu supported another aspirant, Segun Abraham during the last election. As a matter of fact, the primary that paved way for Akeredolu cost Oyegun the-then APC Chairman his job.
It is highly unlikely that Akeredolu will get the Ambode treatment. However, his stay is a threat to Tinubu, if he indeed has ambitions for the coveted seat in 2023.
Aregbesola
During Aregbesola's 63rd birthday colloquium, Governor Nasir El-Rufai dropped some nuggets that sent politics columnists into overdrive.
"I want to congratulate my brother, Ogbeni (Aregbesola), on his birthday. You know I'm your man any day. I'm not Asiwaju's man and you are Asiwaju's man, but I am your man any day. Asiwaju and I have differences but you and I have no differences."
Within 24 hours, different "reliable sources" emerged with inside gist of possible friction between the two.
So important is the relationship between Aregbesola and Tinubu that both had to issue separate statements debunking the rumour.  For those not familiar with Lagos state politics, here is a crash course. Even though Rauf is from Osun State where he served as Governor for eight years; he is more entrenched in Lagos politics.
It would be recalled that Tinubu almost installed Abiodun Faleke as Deputy Governor in Kogi state; until the tragic death of Abubakar Audu and the abracadabra that paved way for Yahaya Bello thwarted that move. Lai Muhammed is another example of such political arrangement. Although representing Kwara state in the Federal Executive Council (FEC), he is an extension of Tinubu's massive reach.
Unlike the misconception in the media, Tinubu's structure relies on men like Aregbesola, Fashola, Munir Banire, Femi Gbajabiamila, Faleke; as well as Gbenga Ashafa and hundreds of others to hold bases. A fight with a charismatic Aregbesola is the least Tinubu can afford.
Likely outcome….
Even the crystal ball of a legendary wizard cannot predict what will happen. It's a marathon and a very long and exhausting marathon. The players are resourceful.
But the simple truth is this, Tinubu has taken the first blow.
Will he survive?