#ZimbabweanLivesMatter
Could a social media hashtag – tapping into the energy and anger of the global #BlackLivesMatter phenomenon – help achieve in Zimbabwe what years of street protests, strikes and political campaigns have so clearly failed to do?
Over the last few days, in response to a particularly brutal, public, widespread, and on-going clampdown by security forces, the hashtag #ZimbabweanLivesMatter has gone viral, globally.
Celebrities like rappers Ice Cube, AKA and Lecrae and actresses Thandie Newton and Pearl Thusi have expressed support for – or at least interest in – what appears to be an exploding grassroots campaign against the government of President Emmerson Mnangagwa, the man who took over from former leader Robert Mugabe.

"It captured the imagination of the population.
Citizens coming together.
I think this is what the whole world felt," said the novelist Tsitsi Dangarembga of the hashtag and the non-political movement behind it.
She was arrested by troops last Friday, and later charged and released.
After taking part in a planned street protest which the government described as an attempted "insurrection" by "terrorists".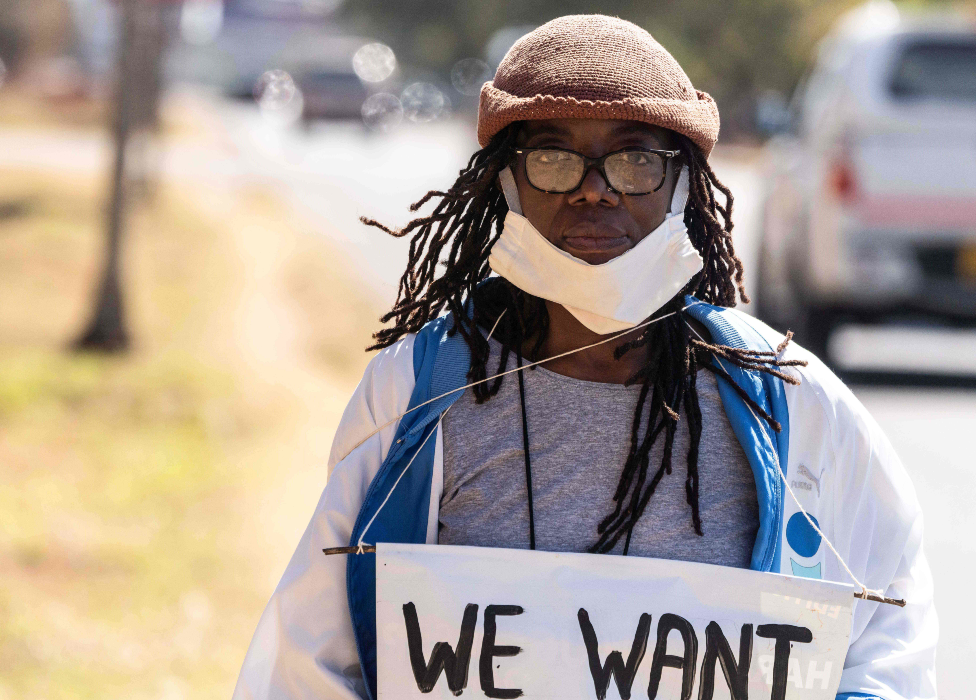 "I was in the holding cells with two men who had been tortured.
One has severe kidney damage," said Ms Dangarembga, who was recently longlisted for the prestigious Booker Prize.
"I am just grateful the world has taken the [#ZimbabweanLivesMatter] message seriously.
Things seem to be coming to such a head now that it is impossible to look away."
In hiding: 'I'm in my bunker'
Zimbabwe has gone through years of profound economic hardship, hyperinflation, a coup, disputed elections, mysterious abductions, growing hunger.
The recent arrival of Covid-19, and repeated, violent security crackdowns.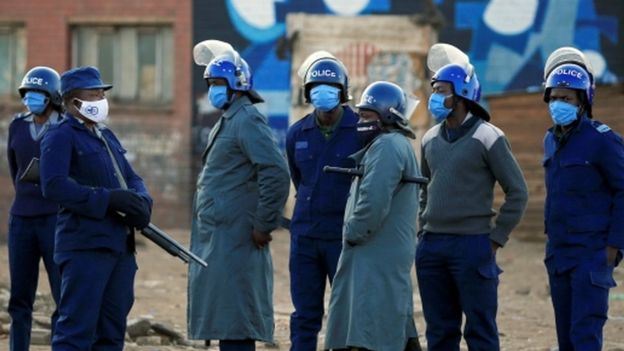 Much of the growing global social media focus has, it seems certain, been fuelled – as elsewhere – by the spread of mobile phone technology which has enabled activists and citizens to film and broadcast footage of assaults, injuries and other abuses almost in real time.
"The ferocity and broad appeal of the #ZimbabweanLivesMatter campaign has unnerved the regime,"
said the prominent journalist Mduduzi Mathathu, during a phone interview from his hiding place in Zimbabwe.
"I'm in my bunker," he commented dryly.
Mathatu's investigative reports have exposed alleged corruption by senior government officials.
Last Thursday he fled from his home, fearing for his life, after being alerted about an imminent police raid.
Mathathu's nephew was later abducted – allegedly by security agents – and then dumped, badly injured, on the roadside three days later.
A doctor's report, seen by the BBC, confirmed the 22-year-old "had extensive bruising, huge subcutaneous tissue damage… acute kidney injuries, and post-traumatic stress disorder".

"Instead of listening to the legitimate concerns raised by so many Zimbabweans, President Mnangagwa has… discarded the last veneer of a reformist," Mathathu said.
"His shock troops have their marching orders and we should brace for a brutal campaign against those demanding change," he warned.
Indeed, in a televised address on Tuesday, President Mnangagwa made it clear that his security forces would continue to crush dissent.
Portraying the anti-corruption movement as the work of "a few rogue Zimbabweans acting in league with foreign detractors".
He vowed to "defend the motherland from any form of attack".
He warned of "dark forces" and "machinations by destructive terrorist opposition groupings".