Ace Nigerian comedian Bright Okpocha aka Basketmouth says it is disrespectful to call people out on social media. According to the comedian in a post shared via his Instagram page on Sunday, November 28, 2021, it is totally unnecessary to call anyone out on social media especially if you have their phone number.
"There are two ways to call people. 1. A phone call and 2. Social media call out. The latter is lame and disrespectful. Especially when you have their phone number," he wrote.
Also Read: Basketmouth reveals main reason he is beefing Wizkid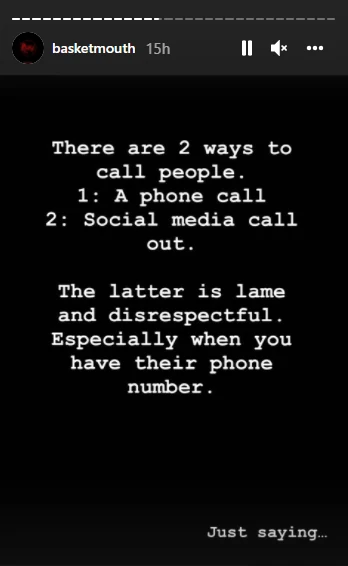 Basketmouth's post is coming a few days after afrobeats artist Rema called out DJ Neptune for putting out his song without his consent.
DJ Neptune released his sophomore studio album, "Greatness 2.0". The celebrity DJ included in the album a track titled "For You" which features Rema.
Rema who was obviously displeased with the inclusion of his record took to Twitter in the early hours of November 26, 2021, to bear his mind on the issue.
"With all due respect chief! Dropped my old record without due process?!! I'm not happy at all @deejayneptune," Rema wrote in the five tweet thread.
"Don't violate the codes, can't drop my song without my notice. Can't even remember the last time we spoke big bro. I pleaded with my manager behind the scenes when y'all tagged me before it dropped. Y'all still went ahead! c'mon nau!"
Meanwhile, Rema's manager Sean Okeke in a statement attributed the misunderstanding to a gap in communication and the delay in obtaining a definite approval from Mavin Records for the track's release.
"I acknowledge that I and my big bro DJ Neptune had conversations regarding the said collaboration as well as the song release sometime last year 2020," he said.
"A few months passed and the artiste felt the song shouldn't be released anymore as there was no more release timeline for it. He urged me to communicate the same with my big bro". Part of the statement read.
Okeke added that efforts are being made to resolve the dispute and facilitate the takedown of the song as requested.
"Looking back at all that happened, I really wish I had just held my ground that the artist doesn't really want the song released anymore which would have made DJ Neptune focus on getting other songs for his album," he said.
"I wish to apologize to all parties involved and seek the peaceful resolution of the matter, with the song in question taken down in respect of the artist's wish."