France's President Emmanuel Macron has called for "profound change" from Lebanon's leadership following Tuesday's huge explosion in Beirut.
Visiting the devastated city, he called for an international investigation.
Many Lebanese say government corruption, neglect and mismanagement led to the explosion.
It killed at least 137 people and injured about 5,000 others, while dozens are still missing. A two-week state of emergency has begun.
Lebanese President Michel Aoun says it was caused by 2,750 tonnes of ammonium nitrate stored unsafely in a warehouse.
The state news agency says 16 people have been taken into custody as part of the investigation.
Judge Fadi Akiki, a government representative at the military court, said more than 18 port and customs officials and maintenance workers at the warehouse had been questioned.
A number of people are still missing but media reports say one man was rescued from the sea about 30 hours after the explosion.
Father-of-two Amin Zahid was near the port and is believed to have been thrown out to sea by the force of the blast. He was reportedly found by the navy on Thursday morning.
What did Macron say?
The first world leader to visit since the explosion, Mr Macron described it as a "metaphor for Lebanon's current crisis" and said a "new political order" was needed.
Funding was available for the country but its leaders had to implement reforms first, he said.
He also called for an international investigation into the explosion "to prevent things from remaining hidden and doubt from creeping in".
An aid conference for Lebanon would be announced in the coming days, he said.
France would make sure aid was sent directly to relief organisations working on the ground.
An audit of Lebanon's central bank was also needed.
"If there is no audit of the central bank, in a few months there will be no more imports and then there will be a lack of fuel and of food," Mr Macron said.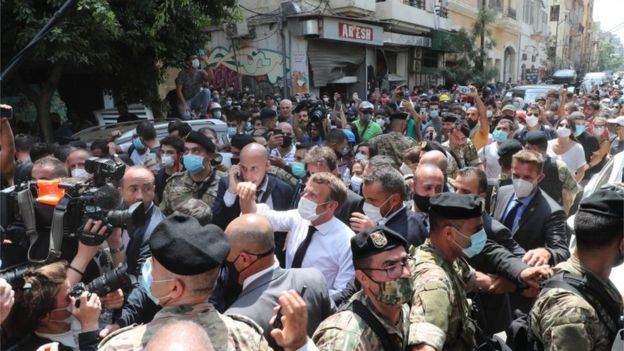 Earlier in the day the French president was mobbed as he walked around the blast-hit city; with residents imploring him to help and denouncing their leaders.
"Help us, you are our only hope," one resident called out.
"Please don't give money to our corrupt government," said another, before adding: "We can't take this any more."
France – the former colonial power in Lebanon – has sent three planes carrying rescuers and medical kit to Lebanon; with a fourth arriving later and a French navy helicopter carrier carrying French investigators; and further supplies due to arrive next week.
Source: BBC