A number of Nigerian influencers have been suspended by micro-blogging site, Twitter for joining in a campaign against the extradition of a wanted Colombian citizen to the US.
1st News can report that the suspended influencers include a host of popular names.
Among them are popular users of the social media site such as @UnclePamilerin, @volqx, @UncleMohamz, @Valhalla_XO, @Alex_Houseof308 and @Tife_fabunmi, among others.
1st News reports that the wanted Colombian, Alex Saab, is accused of running illicit fuel and gold trading schemes; all of which help the Venezuelan government of President Nicolás Maduro evade US sanctions. Saab is currently holed up in the West African islands of Cape Verde where is under arrest.
However, the Venezuelan government is said to be using fake Twitter accounts; as well as a host of popular influencers to sway public opinion and stop authorities in Cape Verde from extraditing Saab to the US.
This was disclosed in an intelligence analysis passed to the Venezuelan opposition, according to the Financial Times.
The intelligence report reportedly examined 547,000 tweets related to the wanted Colombian. The tweets were said to have been published in Africa and South America from October 2020 to February 2021.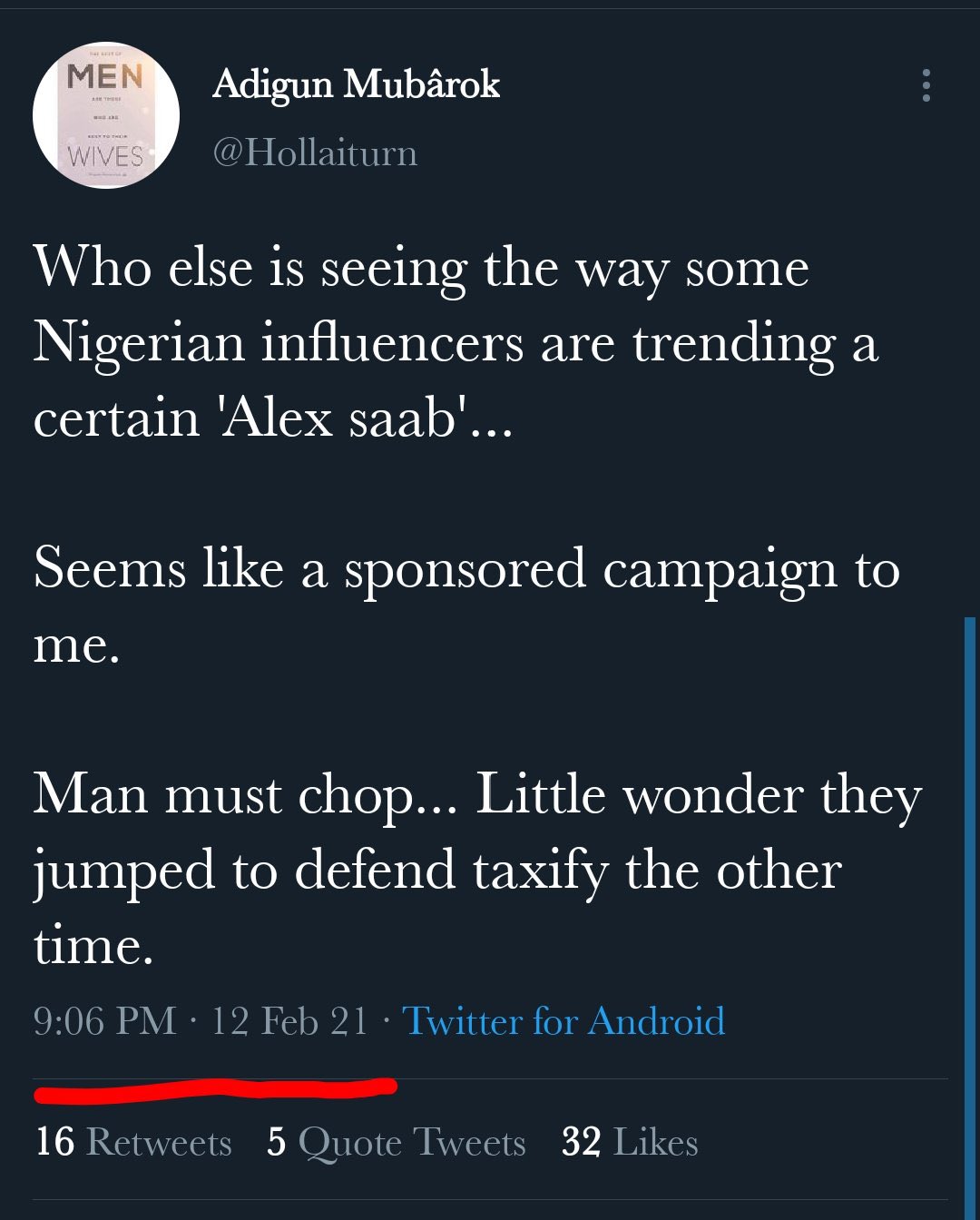 Two groups of suspicious Twitter accounts were identified in the report.
The ones in in the first group were all set up in October 2020.
''Their owners tweeted extensively about Saab and then fell silent by November 3. Five of the accounts tweeted about Saab more than 800 times over the span of just a few weeks,'' the FT report stated.
However, it claimed the second group contained 86 accounts set up between December and February. All of them published identical content about Saab's case.
''None of them included a banner picture or profile biography…Some of them shared the same profile photograph. Most of them had no followers and did not follow other accounts.''
The development suggested a coordinated attempt to leverage public opinion in forcing the Cape Verde government to release Saab. Furthermore, traffic on Twitter with positive sentiment on Saab was said to have increased since early 2021; with the report attributing the spike to the deployment of Nigeria-based social media influencers.
The group of apparently paid influencers have now been suspended by Twitter.
The FT says Saab was detained in June 2020 on a US arrest warrant when his private jet landed to refuel. The medium added that the Venezuelan government said he was on a humanitarian mission to secure food and medical equipment to combat coronavirus. On the other hand, the US and the Venezuelan opposition said he was going to Iran; probably to secure supplies of fuel in defiance of US sanctions.
Consequently, the fugitive Saab has been held in Cape Verde, with the judiciary in that country weighing up the request of Washington to extradite him to the United States; with the US hoping to put pressure on Saab to provide valuable information on the Maduro government.
Saab is believed to aid the Maduro government execute a number of activities which flout existing US sanctions on the regime. They include importation of petrol from Iran, purchase of state-subsidised food in Mexico; as well as exportation of illegally mined Venezuelan gold to Turkey and the United Arab Emirates and money laundering through a number of companies in Panama and Hong Kong, among others.
FT says the Venezuelan government wants Saab set free because he has diplomatic status; adding that he is a special envoy from Venezuela to Iran. However, the US Department of State says there is no basis for him to claim immunity.