China has warned the United States of America not to do anything that could cause trouble.
Chinese leader Xi Jinping warned against playing with fire over Taiwan in a call with U.S. President Joe Biden on Thursday.
As tensions over Taiwan simmer, President Joe Biden reiterated to Chinese President Xi Jinping during a Thursday phone call that the U.S. hasn't changed its position on Taiwan.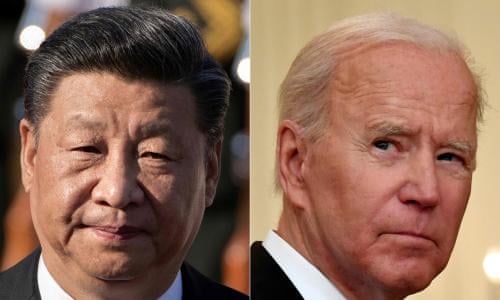 The two presidents did decide to start planning their first face-to-face summit since Xi is reluctant to travel due to the Covid-19 outbreak. They also discussed some areas for cooperation, such as climate change.
However, one of the most contentious issues turned out to be Taiwan. The situation has become a major source of contention as US officials worry about an impending Chinese move on the autonomous island. Additionally, Beijing has issued warnings in response to a potential visit by House Speaker Nancy Pelosi. The Biden administration is making a concerted effort to defuse the situation before it gets out of hand.
The two hours and seventeen minutes of conversation on Thursday covered the subject in great detail. According to China's version of events, Xi gave Biden a foreboding warning.
"Public opinion shall not be violated, and if you play with fire you get burned. I hope the US side can see this clearly," he told Biden, according to China's state news agency. The official English translation later provided by the Chinese Foreign Ministry said, "Those who play with fire will perish by it."
A senior US administration official described the Taiwan discussion "direct and honest".
He, however, downplayed Xi's warning; claiming that the Chinese leader was routinely forewarning of the dangers of "playing with fire."
The phone call was Biden and Xi's fifth conversation since February 2021. The last time Biden spoke with Xi was in March, when he tried to persuade the Chinese president to oppose Russia's invasion of Ukraine.