Have you ever been to a Nigerian party where the host decides to invite security guards for extra measures?
You know security guards to man the perimeter, prevent influx of area buys especially if the area is prone to such interference.
Okay, so that's the kind of Nigerian party I attended a few months back. It was held at an event centre, somewhere in Sabo. It was a wedding party actually. The type where the traditional and church reception are held the same day. We were told the engagements will start at 10am.
Now, it was an unusual wedding party because the couple were Igbos and yet, they both had Alagas. Igbos don't do Alaga Iduro and Alaga Ijoko…Having Alagas for an engagement is a  typical Yoruba thing. But hey, who's to say because it began with the Yorubas, it must remain so? After all, aso ebi came from them.
So, there we were, the eager guests, who came to honour the bride and groom by being there early to celebrate their day.
Traditionally, the groom would be tasked to bring all kinds of items; yams, palm oil, kola nut….all the items you would find in a bridal request were present; including a huge goat, with ribbons on its horns. The goat was bleating loudly and interrupting talks between the alagas.
After the long talks by the different Alagas, around 12pm-ish; the couple and guests were invited to go into the church for the "holy solemnization" of the union …as if the Alagas hadn't joined them as man and wife well enough.
Anyway, a few people got up, because the church was just like in the next compound to where the event centre was.
But by this time, the guests were wondering why they hadn't been served food. I mean, if we are meant to be there from 10am to…whenever the reception ends shouldn't we eat at least twice?
Well, we were given garden eggs, though.
How many of us eat garden eggs?
There was no food; small chops would have been awesome. Bu the hall was filled beyond capacity and not all the ACs were working well…There were no fans, either. That's when I should have left…But I wanted to stay for the sake of the young groom, who was a friend's brother.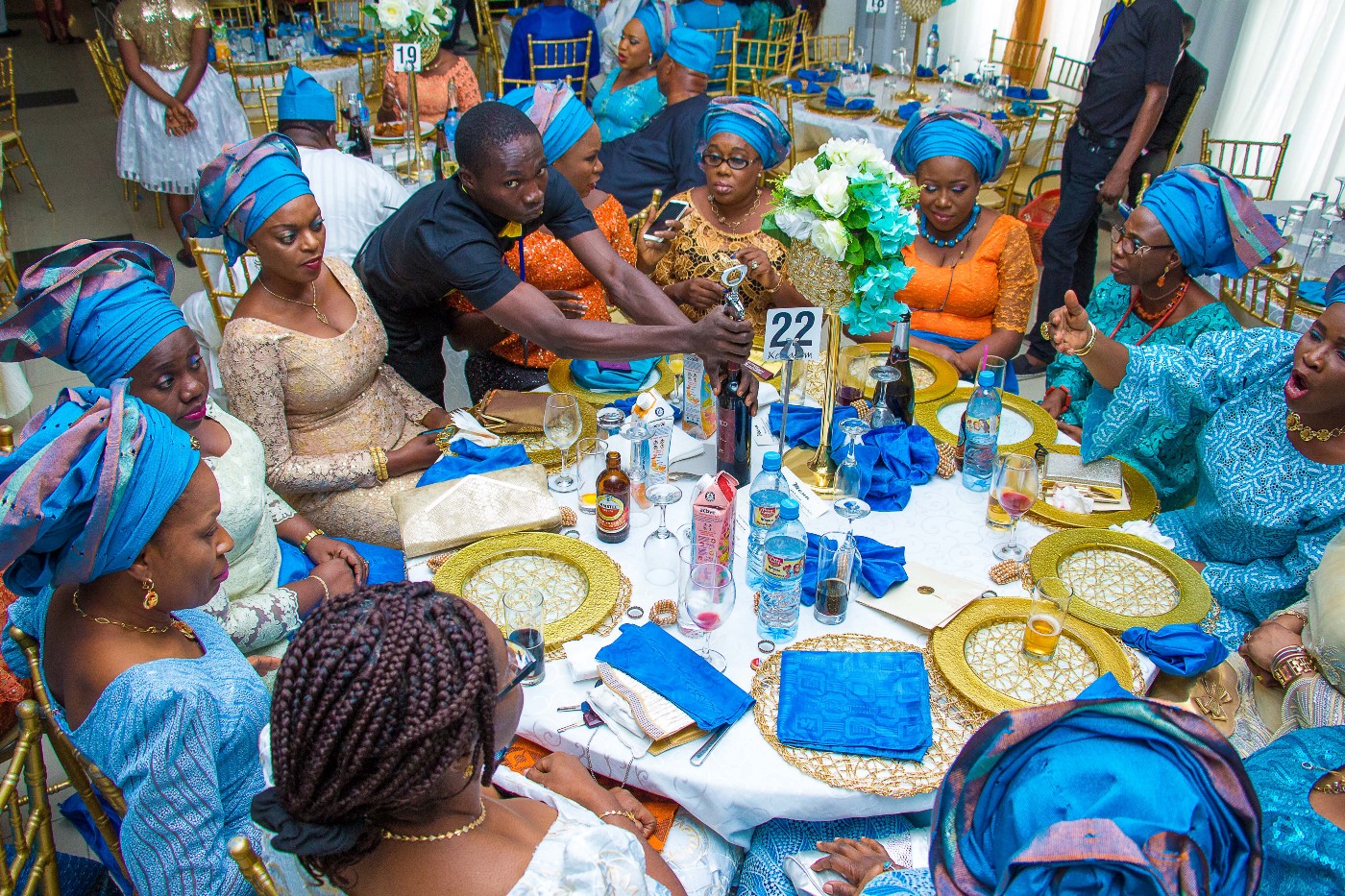 Two and a half hours later, the church wedding was done and reception began in earnest… Yet, food wasn't served immediately. I mean, after being present for more than 4 hours, shouldn't guests be given something else apart from garden eggs?
As you can guess, tempers were rising as guests began to actively demand for food. The bride and grooms' families were running around, calming nerves.
Turns out the caterer came late but that isn't even the issue. When she eventually began to serve food, she was heard saying she had been given orders to serve 80 guests. A cursory head count showed there were more than 120 guests in the stuffy event hall!
You can imagine being at an event from 10am and after a few minutes to 3pm; you are suddenly discovering you won't be served food…Yes, they gave you water and garden eggs but you want food.
Then rumour filtered across that your row is among those the caterer had declared would get no food!
Hummn
Oturu gbeke!
The thing to do is just to get up in a huff and march out of the hall!
Which is exactly what I did.
Outside was a riot!
So, apparently the security guards they hired felt they also deserved to be given food. They disregarded pleas from the hosting families that they couldn't be served especially as invited guests hadn't even been served. They complained of being neglected. I think they didn't know the guests inside weren't being fed full either.
So what did the security do?
They seized the tethered goat with ribbons on its horns and rushed it into a side house along the street! They threatened to kill the goat and roast it for food!
I kid you not, literally!
There were people trying to reason with them. There were those wondering why people have parties they can't feed their guests.
I thought this was truly unfair to the hosting families. In most Nigerian parties, when one invites one person, he/she comes with five more uninvited guests! So, maybe that's what happened here. They prepared for 80. Over 120 people showed up and I saw some people just going into the hall!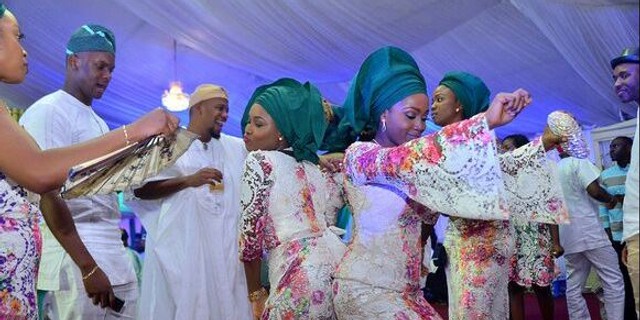 I have never witnessed madness at that level at a Nigerian party ever; that hired security guys would threaten the people who have probably made some form of down payments to secure their service.
Like we say in Naija, I spoke to my legs! I left the venue shaken…Yeah from hunger and from fear as to the brazen attitude of these guards and the raucous they were causing outside! Who said they deserved to be fed if they would be paid?
Why would they be fed when the invited guests haven't eaten?
How did it end?
Rumour has it that the police were called in. The goat was rescued. It charged at a few of the hoodlums manhandling it.
The bride and groom had no idea what was going on outside; nor were they even aware that so many of their guests didn't eat. They were said to be dancing and feeding each other cake while the guests who had been given food applauded!