The story that leaked about Davido and Chioma Rowland getting married secretly filled me with joy.
Some things can either make or break you. Tragedies, like the loss of a child could either tear apart a couple or bind them together.
I said to myself, "These ones will pull through."
After the news about the death by drowning of their three year old toddler, Ifeanyi; I was among those who felt Davido and Chioma, the young parents of the boy, will have a hard time getting over this loss.
Ifeanyi had become for me, "the most popular child in Nigeria." It was as if we knew him, held him, and even helped to raise him.
So, when I heard his parents had secretly tied the knot; my thanks goes to whoever it was that advised them to do this.
"Get married quickly and don't make any noise."
I know that the longer they hold off the wedding that had already been touted; the wedding of the year, 2023, the more difficult it would be for them to remain as a couple.
The loss of a child is the easiest thing to break a couple apart.
I have seen couples who lose a child break apart; in fact they are in the majority. Fewer couples remain whole as one after the loss of a child.
I have seen couples struggle to keep it together after the loss of their child. I have seen them blame one another for their common loss. Also, I have seen many couples curse out one another and threaten to kill the other, over the loss they both share.
May this never be a story we have to tell in our lifetime. Losing a child is never an easy road to travel. Few parents survive it and fewer marriages, too.
I know of a family, when the daughter, the only girl in a family of five, died in an accident, the mother shut down completely. She went into long years of mourning and grieving…for more than 12 years.
The mother kept the daughter's room as it was, for more than 12 years.
She literally erected a shrine for the girl and completely forgot she had other children apart from the one she lost.
It was the father's job to raise his boys.
To help them understand their mother's grief. Even years after this loss, the mother refused…well, maybe not refused, she just couldn't go on. She couldn't live, laugh, or celebrate any  festive period because she felt she was betraying her daughter.
Imagine the anguish the father and the sons went through for many years. They too suffered the same loss. The father lost his daughter. The boys lost their sister…But the mother's grief belittled theirs; making it look like she loved the daughter more than the rest of her family.
Imagine the many times family and friends would have intervened to "talk the mother out" of her grief.
Imagine the many times she must have pushed back, must have fought with her husband; must have accused him of ganging against her. The husband must have reminded her he also lost a child. He has a wife and kids to take care of.
I can only imagine the many times the husband fought to understand his wife's pain.
Whereas many men would say, "na only you lose pikin? After how many years? We have other children."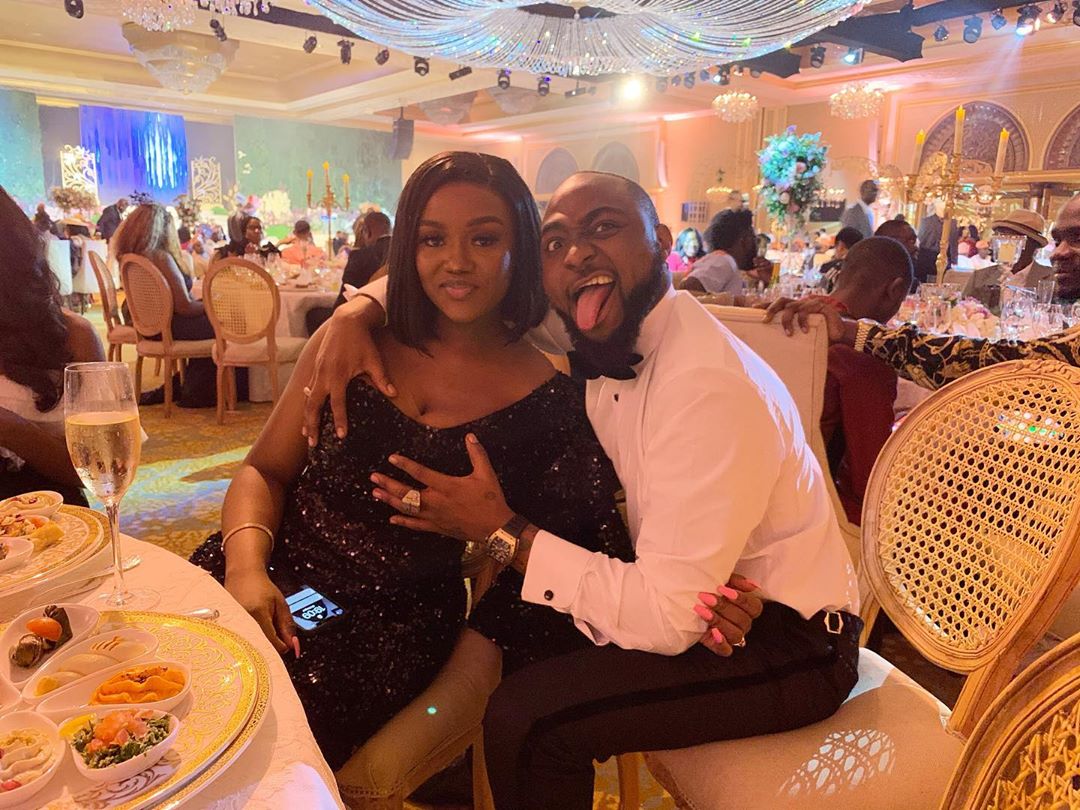 Maybe he did; the thing is, we never saw any of that quarrel. We never heard that the woman was sent packing after 5, 6, 7, 8, 8…years of grieving.
Did they not have these talks?
They must have.
All we saw was a woman, grieving over the loss of a child for more than 12 years; a husband who stood with her through this grief; never once criticizing her decision or choice of grief; never once walking away from a marriage she had apparently abandoned.
All we saw was a man who seemed to understand and accept his wife would grieve for so long.
On the other hand, I know of couples, who after the loss of their child became eternal enemies over their common grief. The husband blamed the wife. The wife couldn't stop finding faults with the husband she holds responsible for their loss.
To hear the many savage talks about Davido using Ifeanyi for ritual; to hear people we think are sane discuss the toddler's death as punishment against his father; it can only take God to keep Chioma and Davido together.
Having said this and knowing couples who share a common loss can swing either way; I hope that Davido and Chioma, by this union of bleeding hearts, will save one another from the loss they both share.
I am hopeful that perhaps, because they are still both young; they would be blessed with many more Ifeanyis than they can handle.
It is my hope that Davido will not have another baby mama laying claims to his seed in trying to supplant Chioma because like it or not; girls will throw themselves at him, telling him they will birth him another Ifeanyi.
Here's wishing Davido and Chioma a happy married life.
Like Sir Shina Peters said in his song, "…omo 'nbo, o"