An alleged victim of Police brutality during the recent #EndSARS protests has disclosed how policemen from Area C Station made her remove her bra after she was arrested.
The woman was identified as Felicia Nkemakolam Okpara, a 27-year-old mother of one.
Equally important, Okpara was one of the ladies in a video that went viral during the #EndSARS protests. She was dragged into a police station after being apprehended by the Police. On Friday, she narrated her ordeal before the Lagos State Judicial Panel of Enquiry and Restitution for Victims of Special Anti-Robbery Squad (SARS) Related Abuses and other Matters.
Okpara testified that she was beaten and made to remove her bra in the presence of the policemen. She was led in testimony by her lawyer, Ridwan Oke.
Specifically, she revealed that several policemen and police women beat her after she was caught trying to stream policemen from Area C Barracks Police Station shooting into the midst of #EndSARS protesters. Further, she disclosed that she was trying to stream the incident on her personal Twitter handle before she was caught.
"After taking off my bra, one policeman went inside and brought a broken mop stick and used it on a man that was also arrested. After beating him, he went out and came back with the same anger…He started hitting me with the nozzle of a gun.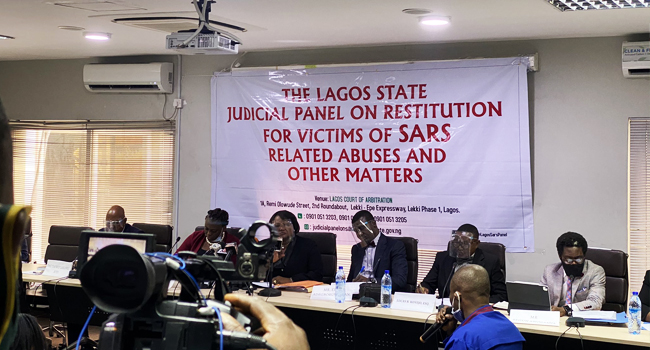 "I was scared that he could pull the trigger. I think he realised what he was doing and then stopped and started using the gun butt to beat me."
"They took us upstairs and brought us back. That was where I saw Desmond Elliot. There were so many lawyers around. My head was bruised. My face was bruised. I saw some lawyers and Desmond Elliot. I saw someone from the government.
"Later, Desmond said where are the two ladies whose video was trending on social media? That was when I knew he came for me."
The petitioner said the police took her money and damaged her phone. Also, she claimed they had threatened to detain her at Panti, Kirikiri and Abuja; adding that they did not allow her and the other lady that was arrested to make a call to anybody.
Upon her release, she revealed that Desmond Elliot gave her N6000 to go home around 10pm.
"I was smelling, in fact stinking. I was traumatized. There was no vehicle, no cab," she declared; even as she revealed that she was almost raped on her way home.
Justice Doris Okuwobi admitted in evidence the photographs of her bruised body and face; as well as the medical report and damaged phone. Thereafter, she adjourned the matter till December 4 for continuation of hearing.