Once upon a time, we all thought Rev Father Ejike Mbaka was an Elisha; bringing us divine messages from the Most High.
Embarrassingly, we all thought wrong.
When Mbaka moved against Goodluck Jonathan, we thought heaven had turned against the government of the Ijaw man. When he embarrassed Peter Obi, we all shrugged. 'Obi is too stingy' some commentators even argued.
What we conspicuously ignored was the politicization of the pulpit for commercial gain. Commercialization of the pulpit. Every citizen has the right to criticise the government. But when a clergy does it under the pretence of divine instruction, it seems morally wrong.
Mbaka, before his 360-degree turn against Jonathan, was praising him in 2014. He even defended Jonathan against those asking him to criticising him over the abduction of the Chibok Girls.
In his words, "you have done well, except for few distractions."
'Done well' now obviously means in financial terms. His anger towards Obi was also financially bound. The obvious question is, how much does Gov. Ifeanyi Ugwuanyi or Gov Hope Uzodinma use to renew their subscriptions in the good grace of the popular Reverend Father?
When Garba Shehu came out with allegations of #ContractGate, it was kind of easy to believe. When people believe Garba Shehu, a man with little to no regard for credibility, then it is bad for Mbaka.
Some days ago, it was Japhet Omojuwa and Oby Ezekwezili. Thereafter, we had Yele Sowere and his grants scandal. Some days ago, it was Eedris Abdulkareem and his bambi Allah strategy in Festus Keyamo's DM.  On the other hand, Sheik Gumi has assumed a full-time job of middleman for bandits.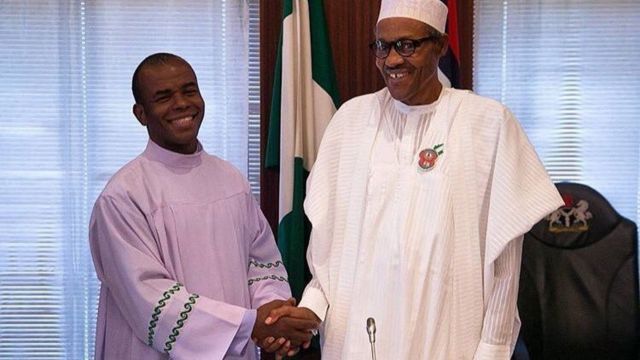 What is wrong with everyone?
Now, it is becoming clear to all that Mbaka is nothing but an entrepreneur with a pulpit as tool. We have commercialized the social media, civic space, academia and media, with the main tools being blackmail and extortion. Unfortunately, clergies are masters of the game.
He who claims equity must come with clean hands. If you indeed want to be a critic, make sure you have no receipt in anyone's DM or a meeting that will embarrass you.
Unfortunately, Mbaka is right to call for Buhari's resignation. But the messenger is polluting the message. The question is, would Mbaka had called for Buhari's resignation if they had given him the requested contracts?