Cutie__juls has exposed the deed of Instagram dancer, Janemena and popular herbalist while accusing them of bottling up Mr Plies (Janemena's husband) via charms.
It was also revealed that when the award-winning herbalist and Janemena fell out; she (the herbalist) still wasn't able to undo what has been done; owing to how strong and powerful the voodoo is.
Also Read: "Get ready, we'll drop the audio note in which Kpokpogri called your husband impotent alongside the main tape" – Doris Ogala tells Janemena
Read the post below:
"World people wee say if you heard about the bottle wey mamalawo helped J the twerker put Oga Plies inside that year eehn; you go know sey this mamalawo dey deserve award.
Even after Mamalawo fell out J because of T… Still Mamalawo herself couldn't free Oga Plies cuz the sea wey them throw way Oga Piles bottle, deep wella😩😩😩
Sons of Adam… pele 😩😩🏃‍♀️🏃‍♀️🏃‍♀️"
See post below: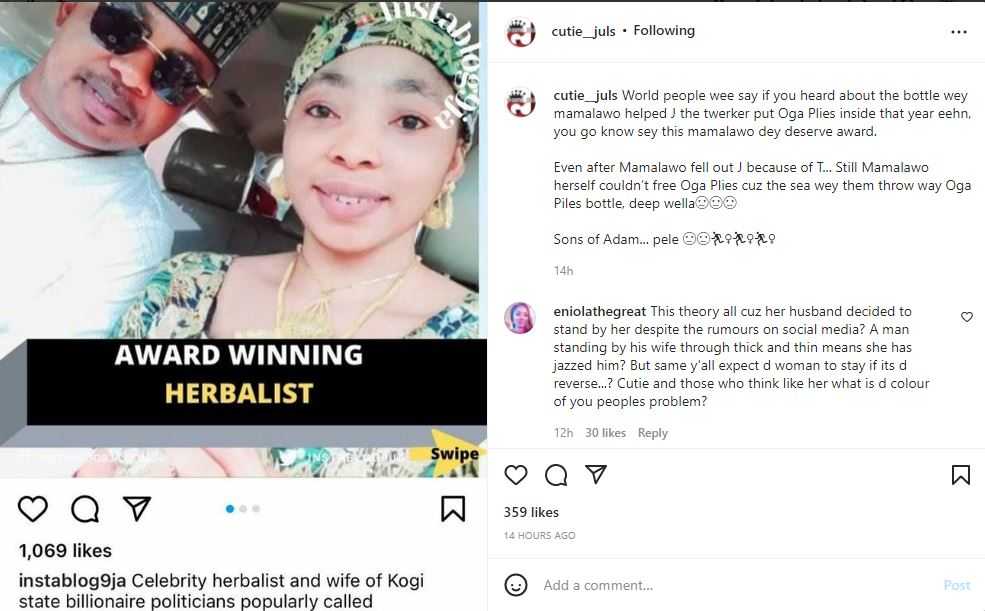 In other news, Ufuoma McDermott, a Nollywood actress, has asked young people to quit age-shaming others; or insulting them by calling them "old."
This was said by the 40-year-old actress in a post on her Instagram page on Monday, December 27.
Aging, she believes, is a gift from God rather than a curse or a stigma. She went on to say that there would come a time when we all look back and realize we aren't as young as we once were.
The mother of two also prayed to God to keep everyone alive till they reach a ripe old age.