Investigative journalist, Kemi Olunloyo has affirmed that come 2022, all celebrities and public figures' files will be opened. She further stated that this wouldn't be in form of blackmail, rather it is called Gossip News. According to her, when this happens, the controversial Instagram blogger, Gistlovers will be out of business.
Kemi Olunloyo described Gossip News as a combination of investigative journalism and entertainment.
In her words:
"In 2022 every celebrity and public figure files will be opened. It's not blackmail, it's GOSSIP NEWS. You want to work and don't want me to work abi? Gistlover will be out of business. Investigative journalism and entertainment news equals GOSSIP NEWS."
See the post below: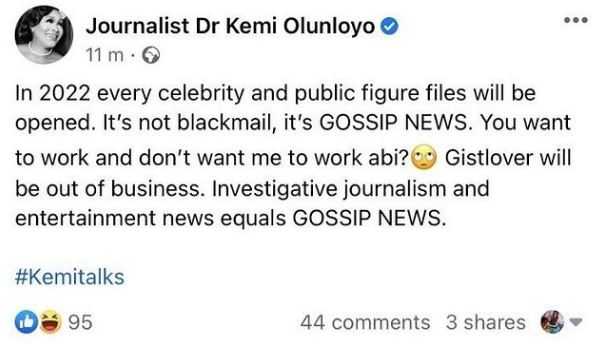 On another serious albeit unrelated matter, Kemi Olunloyo in a chat last week had claimed she had information on the deceased minor's death; alleging that Sylvester Oromoni died during a cult initiation process he willingly gave consent to.
Kemi's claims had also contradicted initial reports on how the 12-year-old student of Dowen College died.
In a petition filed on behalf of the family by human Rights lawyer and Senior Advocate of Nigeria (SAN), Mr. Femi Falana, the family called for an investigation on Kemi's claims; with further reports saying the family was angry over the allegation against their late son by the journalist.
Only last week, contrary to the claim of the slain student being beaten to death; over refusal to join a cult group; Kemi Olunloyo stated the late aspiring pilot joined willingly; and was ready to do anything to pull through.
The journalist made the claim known in an audio interaction via Twitter Space; where she revealed that Sylvester drank engine oil as part of the initiation process to join the cult; including describing his sister's body.
Kemi concluded that the victim acted based on peer pressure; and also was ready to do anything to join the clique.