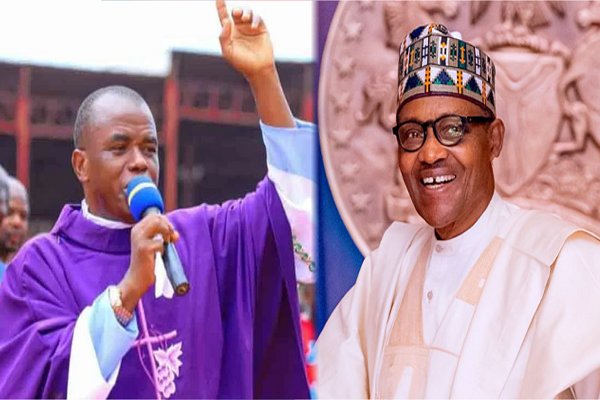 A popular Catholic Priest, Rev. Fr. Ejike Mbaka has resurfaced after being allegedly declared missing.
The development had caused an uproar in Enugu.
Mbaka is the founder and director of the popular Adoration Ministries, Enugu and Parish Priest, St. Mary's Catholic Church, Emene.
The fiery Catholic Priest turned up unannounced on Wednesday; dousing the concerns of his members, many of whom had gone on the rampage over his alleged disappearance. His reappearance has sparked wild jubilation across Enugu. A video posted on Twitter by a blogger, Tunde Ednut, captures the rapturous celebration of many who sighted the Catholic Priest.
Enugu residents are happy to see Father Ejike Mbaka all well and good.
pic.twitter.com/F12cUoSLw0

— Tunde Ednut (@TundeEddnut) May 5, 2021
1st News reports that protesting youths on Wednesday vandalised the official residence of the Catholic Bishop of Enugu Diocese, Bishop Callistus Onaga in protest at the alleged arrest of Rev. Fr. Mbaka. Specifically, the youths, suspected to be members of the Adoration Ministry and numbering over 1,000 stormed the residence of the Bishop located at Igboeze Street, Independence Layout, Enugu.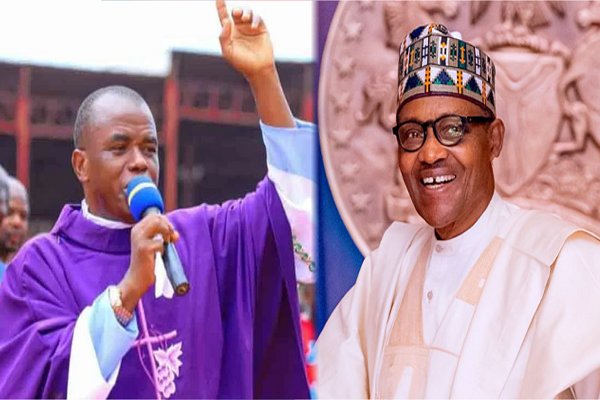 Further, the protesters called on the Bishop to clarify the whereabouts of Mbaka who had not been seen since Tuesday.
Also, another section of the irate protesters called on Bishop Onaga to resign. They alleged that Onaga invited Mbaka on Sunday for a meeting where he handed him over to the security officers.
"He (the Bishop) will explain to us where he kept him since Sunday…He cannot betray our daddy (Mbaka) and he cannot be used to arrest him," one of the protesters said.
Another member of the ministry, Kenneth Uzoma complained that the members waited for the priest to hold his service in the early hours of Wednesday but he did not show up.
"This raised questions and suspicions that his rumored missing was true. We waited and he did not show up. So, we decided to protest at the bishop's court to demand for his release.
"We were told that his phone numbers were ringing without answering. We are angry over everything and will not go until they release him to us," he said.
Meanwhile, Rev. Fr. Mbaka has recently been involved in a war of words with the Presidency after been accused of turning up with three contractors to a meeting with President Muhammadu Buhari. Mbaka had, of late, turned fiercely critical of Buhari whom he had previously supported.