New Zealand has ordered 1.2 million sq cm of skin from America to treat patients suffering burns of up to 95% after Monday's volcano eruption.
Surgeons have been working around the clock on 29 patients in burns units across the country; since the volcano suddenly erupted on White Island, off New Zealand's North Island.
Six people have also been confirmed dead following the eruption; while two British women are believed to be among 30 in hospital.
The bodies of eight people are thought to be on the island; as ever-increasing volcanic activity is preventing authorities from safely returning to it.
Due to the unprecedented numbers of burn victims at one time; as well as the nature of their burns from toxic volcanic gases; surgeons are having to work quicker than usual, said Dr Peter Watson, clinical director at Middlemore Hospital where the national burns unit is.
He said 1.2 million sq cm of skin is coming from the United States as they "urgently need more skin grafts".
A number of patients have burns on up to 95% of their bodies; while the average is 40-50%, and 22 also remain on airway support due to burns affecting their lungs.
A human body has approximately 20sqm of skin, with the palm of a hand about 1.5% of a body's skin, doctors explained.
Surgeons estimated they have 500 hours of operations to do in the days and months ahead.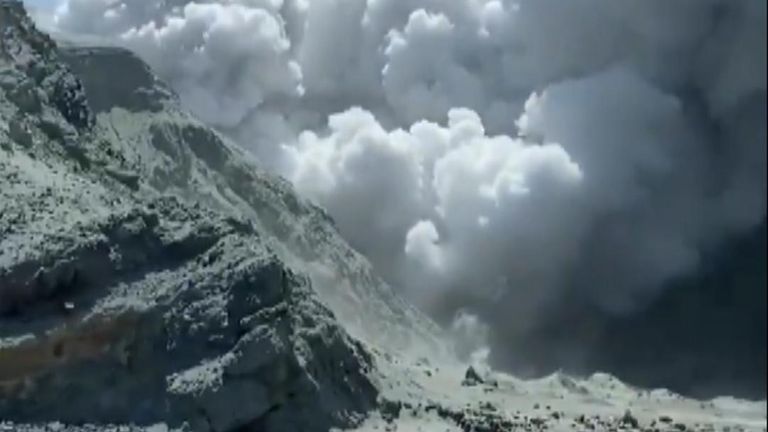 An Australian Defence Force aircraft is being sent to New Zealand to transfer some of the Australians involved to burns units closer to their homes.
One Australian national was being flown from Auckland by specialist air ambulance to Australia on Wednesday evening.
The other victims are from New Zealand, the UK, the US, Germany, China, and Malaysia.
More names accounted for in the New Zealand Volcano eruption
Dr. Watson said doctors struggled to identify many of the patients at first as they were in surgery; and many did not have ID on them, but most have been identified now.
Matthew Urey, from Virginia in the US, experienced burns over 80% of his body, while his wife, Lauren Urey, who he had just married, had burns over 20% of her body.
Experienced tour guide Hayden Marshal-Inman, from New Zealand; was the first person to have died to be publicly named as his brother, Mark; described him as a "lovely young man" who died doing what he loved.