The men's senior basketball team from Nigeria has delivered another impressive outing; following up its win over the United States with another victory over fourth-ranked Argentina on Monday night.
1st News reports that the game was the second tune-up match ahead of the Tokyo Olympics.
Nigeria beat Argentina 94-71 after shocking the star-studded US team 90-87. Jahlil Okafor scored 15 points, Precious Achiuwa added 12 and Nigeria improved to 2-0 in the pre-Olympic exhibition season.
Also impressing on the night was Josh Okogie and Chimezie Metu who added 10 points each for Nigeria. D'Tigers, as the Nigerian basketball team are known, had played the US without Okafor who plays for Detroit Pistons in the NBA. Okafor had just joined the team. Therefore, coach Mike Brown had decided against immediately pressing him to action against the three-time Olympic gold medallists.
However, match reports indicate that Okafor was raring to go on Monday night. He led scoring for D'Tigers, going 7 for 8 from the floor and grabbing seven rebounds in 14 1/2 minutes of action.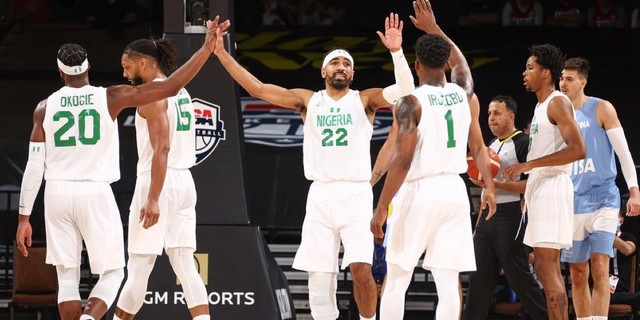 Leandro Bolmoro led Argentina with 10 points, and Luis Scola added nine.
Nigeria will again take to the court on Tuesday to play Australia; while both sides beaten by Nigeria – the US and Argentina will also go head-to-head same day.
1st News had reported that D'Tigers had left the world stunned after beating their US counterparts in a first warm-up game ahead of the Tokyo Olympics, becoming the first team from Africa to achieve the feat of beating the Americans.
In achieving this feat, Nigeria, the 22nd-ranked nation by FIBA beat the No. 1-ranked team and three-time reigning Olympic gold medallists. The development had ignited shockwaves in sporting circles. Furthermore, the victory by the Nigerian side has shattered any sense of invincibility for the star-studded Americans heading into the Tokyo Olympics.
Nigeria fielded a team made up of little-known NBA players on the night. On the other hand, the Americans could call on a group filled with NBA All-stars and superstar performers.
However, Nigeria showed that D'Tigers ought to be taken seriously at this year's Olympics.
Speaking to the US media after the shock victory, D'Tigers' Gabe Nnamdi expressed delight.
"We just wanted to compete. We know what USA Basketball means around the world and what they've stood for for so long."