Nigeria U-20 National Women's Football Team (Falconets) defeated South Korea 1-0 in their second group stage game at the ongoing FIFA U-20 Women's World Cup in Costa Rica.
With their victory over South Korea at the Estadio Alajuela Morera Soto Stadium; the Falconets received a crucial boost to advance to the knockout stage.
The Falconets thrilled the few spectators with their outstanding possession as they took control of the game. Nigeria had 64% of the ball compared to 36% for the South Koreans. However, they failed to score throughout the opening period.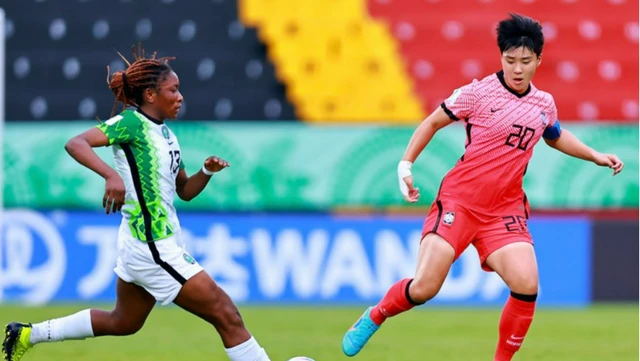 The Korean team grew into the game and even hit the post with a free kick; but the Nigerian women held on.
Both teams nearly exhausted all of their tactics in the vain attempt to score a goal that never materialized.
In the second half, both teams carried on from where they left off.
Esther Onyenezide eventually scored the game's winning goal in the 83rd minute, with the Falconets winning the game.
Meanwhile, the Falconets got off to a winning start on Thursday with a 1-0 win over highly-rated France. South Korea also won their first match when they beat Canada 2-0.
As it stands, Nigeria has qualified for the quarter-finals with a game to spare. In their last group stage game, the Falconets will be up against Canada on August 19, 2022.