The British Government has reportedly contacted the Nigerian government, seeking details of the circumstances in which detained leader of the Indigenous People of Biafra (IPOB), Nnamdi Kanu was arrested and extradited to Nigeria.
The enquiry comes after Nnamdi Kanu, who holds British citizenship was arrested; after allegedly been detained and mistreated in Kenya before being sent back to Nigeria, Reuters reports.
1st News reports that Nnamdi Kanu was repatriated to Nigeria in late June after being arrested in Kenya. The activist had been standing trial in Nigeria over alleged treason before jumping bail.
He has since attributed his action to fears over his safety.
Nnamdi Kanu remained away from Nigeria for four years; until he was repatriated and arraigned in court in Abuja on June 29. However, his lawyers had claimed that he was kidnapped and unlawfully brought back to Nigeria.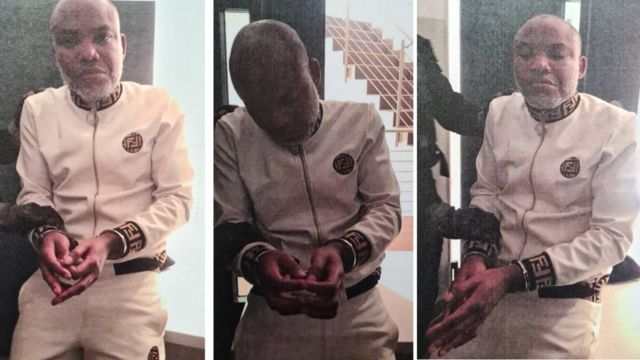 Ifeanyi Ejiofor, lawyer to the detained IPOB leader, alleged that he was held for eight days; before being turned over to Nigerian authorities. Also, he had accused Kenyan authorities of torturing and dehumanizing the activist.
"We are seeking clarification from the Nigerian government about the circumstances of the arrest and detention of Nnamdi Kanu," Tariq Ahmad, a junior minister at Britain's Foreign Office was quoted by Reuters as saying.
Meanwhile, the Nigerian government has so far declined to provide details of the arrest. Also, Kenya's ambassador to Nigeria has denied the involvement of his country.
Ahmad said Britain had requested consular access to Kanu and stood ready to provide consular assistance.
Kanu faces 11 charges including treason, terrorism and illegal possession of firearms. His case is due to resume in court in Abuja next week.
However, his lawyers are insisting on his release, citing the alleged unlawful nature of his arrest.