Nollywood actress, Omotola Ekeinde has reacted to the bikini photos of one of her daughters, Meraiah Ekeinde.
This is coming after Meraiah who's currently vacating in Dubai via her Instagram page shared sultry photos of herself, drawing the attention of both her mother and fans.
Sharing the hot bikini photos, Meraiah captioned it; "Vacation mode over here! How're y'all feeling?"
Reacting to the post, her mother, Omotola Ekeinde commented in pidgin saying, "Na wa o" with the emoji of rolling eyes.
Also Read: Meraiah Ekeinde, Omotola's daughter narrates story behind outfit she rocked on her 21st birthday
See post below: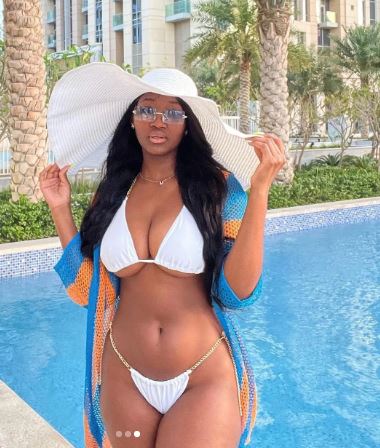 The actress's reply stirred reaction amongst her fans, who commended her for 'nice parenting'
One jaypearl__ wrote; 'Omo… She's so hot but nawa oo'
kingtosinx wrote; 'Lmao, wetin wa? No be you give am every figure'
son__flower wrote; 'good genes run in their family.'
asa_chuuu wrote; 'She just told you people " that's not how I trained her o"
One my_baby_joy wrote; 'She is beautiful'
One empressinteriors1wrote; 'nice parenting. She go still drill am for phone.'
One nene_george wrote; 'Her daughters I must admit are hot & spicy 🌶 🥵 just like their mom. Sometimes I know we look at ourselves as mothers and be like…. Did this beauty come out of our wombs???'
deedydarl wrote; 'Sometimes social media no Dey give man joy BUT with some kin pics the feeling is different!!