Peter Obi, the presidential candidate of the Labour Party  (LP), has been predicted to emerge victorious in the upcoming 2023 elections, according to a poll published by ANAP Foundation.
ANAP Foundation is a non-profit organization committed to promoting good governance.
It is founded by Atedo Peterside, the founder of Stanbic IBTC. Peterside gave a detailed analysis of the poll on Thursday, September 25, 2022 during an Arise News interview.
According to the famous industrialist; Peter Obi is the favourite to win the elections based on the results contained in the poll.
He further asserted that Bola Tinubu of the All Progressives Congress (APC); as well as Atiku Abubakar of the Peoples Democratic Party are tied in second place; while Senator Rabiu Kwankwaso of the New Nigerian Peoples Party is a distant fourth.
Also Read: EU warns on 2023 elections, says politicians must give INEC free hand to operate
"In every nation and election season, there are always polls and there might be surprises…The interesting thing about this poll is that Peter Obi is in the lead and favourite to win the 2023 elections.
"There is always an outsider in every election…
"Rabiu Kwankwaso fits the profile with quite a substantial number of percentile. This poll is unique because the election is gearing up to be a very closely-contested three-horse race…No candidate is in the clear lead in all the regions," Peterside noted.
"Furthermore, Obi's votes cut across all demographics and not just the youth and the issues for most of the respondents are security and economy."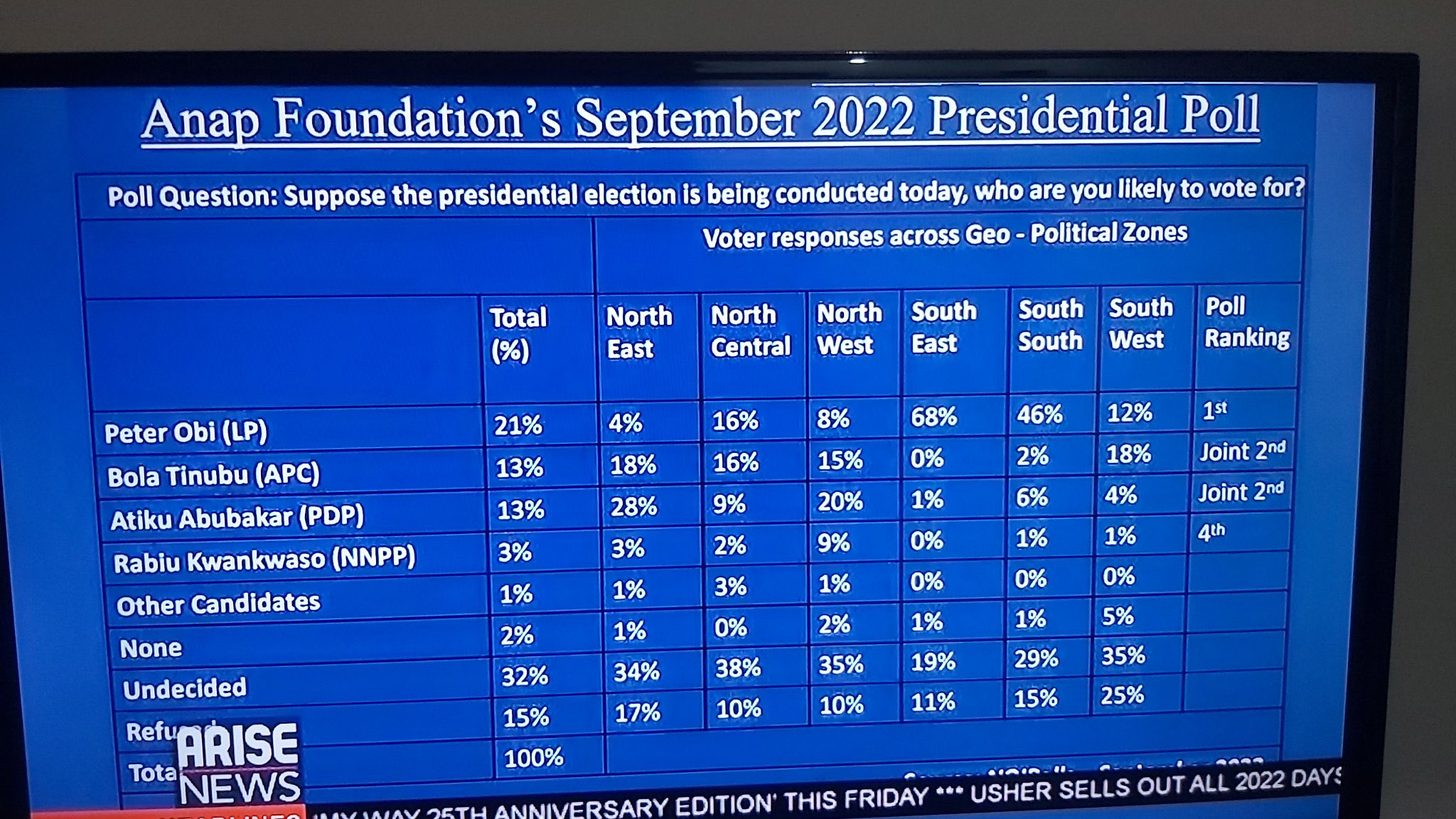 Meanwhile, the aftermath of allegations made by Festus Keyamo, the Director of Media and Public Affairs and Official Spokesperson for the All Progressives Congress, APC, Campaign Council, over an assassination scheme by Peter Obi, the presidential candidate of the Labour Party continues to generate reactions, especially from social media users.
Earlier on Monday September 12, 2022;, Keyamo alleged that Obi was planning to fake an assassination attempt on himself; adding that he intends to hire some supporters dressed in APC caps and shirts to attack his party's offices.
The Minister of State for Labour and Employment had earlier accused Obi of circulating a hate-filled video online ; adding that it was targeted at soiling the presidential candidate of the APC, Asiwaju Bola Tinubu.
This is coming after Peter Obi accused Nigerians of being blinded by Tinubu's money; choosing to vote for him despite the fact that he is ill.
While challenging Obi to reveal the source and name(s) of the culprits behind the nebulous WhatsApp message he mentioned in the video; the minister noted that it was obvious Obi deliberately concocted the message and circulated the offensive video himself as a campaign strategy.