Nigerian music artiste, Ric Hassani has revealed how he once resorted to buying a brand new phone for one of his domestic workers because his ring tone was much to his dislike.
In a tweet of his, he shared that because he so much likes his peace and quiet, he once bought his cook a new phone because he hated his ringtone.
Also Read: Tonto Dikeh, Angela Okorie sing Ric Hassani's 'Thunder fire you' (Video)
He wrote: I so like my peace and quiet, i no like jiggy jiggy. I once bought my cook a new phone because I hated his ring tone. He had one of those small phones that the ringtone sounds like Korean cultural dance. It was stressing my deep thoughts.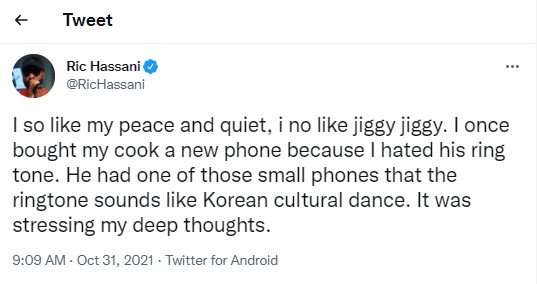 Ric Hassani also once took to Twitter to talk about how "heart wrenching" it is writing love songs while being single. He said finding someone these days is scary; and revealed he has been through "intense craziness" while trying to find the one.
He admitted he values the peace he gets from being single; but said he's hoping deep down that God sends him a worthy companion. Ric Hassani added that he has handed over the choice of a partner to God seeing as his discretion has failed him in the past and almost cost him everything.