The recent pronouncement by the Inspector General of Police (IGP); Abubakar Adamu which ordered the removal of all operatives of the notorious Special Anti-Robbery Squad (SARS) from roads and streets; is one development that should be viewed with cautious optimism.
The IGP is notorious for a band-aid approach to burning issues. Nevertheless, the clamour for reforms, justice and holistic review of policing in Nigeria must be the aim. Indeed, this is not the time for distractions. Many with vested agendas will try to infiltrate the End SARS movement for personal political end. The is the time to streamline the end. Some have suggested some radical approach, like; moving SARS operatives to hot zones, or total disbanding of the unit.
Both radical views are tempting but could be impractical for many reasons. We need a special police unit to tackle issues like robbery and kidnapping. However, the unit must be disciplined and well-equipped with intelligence gathering capacity; instead of what seems like grown men playing cowboys in Wild West fictional stories.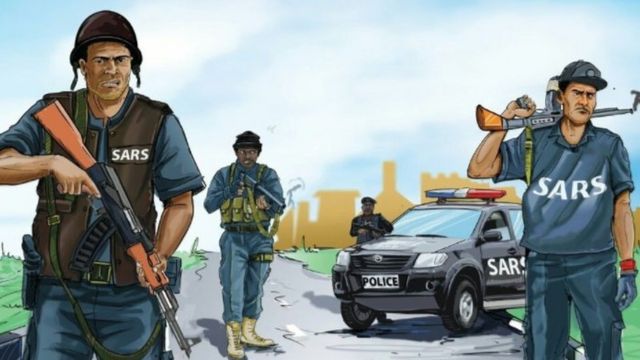 The bad guys among the SARS and other tactical units should be weeded out and punished accordingly; especially when caught engaging in extrajudicial killings, extortion or brutality. Also, those with criminal records or shady pasts should be removed from the system. Their activities should be directed accordingly in line with the mandate of their establishment. The government needs to withdraw men of the Nigerian Army from police functions; such as reining in kidnapping, banditry and others and, to that effect, deploy SARS operatives.
But while we are at that; we must devote the same energy to eradicating the menace of internet fraudsters in our society. The surge in 'yahoo boys' activities coincides with the emergence of youths-chasing SARS officials.
We have to end both, for the sake of our future. The truth is, the ill-gotten money through fraud is having a massive impact on our moral fibre; one with the potential to corrupt anyone or any institution. Even if we are able to bar SARS from our streets, regular policemen will move in. They will continue the extortion ring, but maybe with less impunity.
A huge chunk of undergraduates in Nigeria are part time "yahoo boys" while secondary school students are "benefit boys." Some of these lads have made so much money from different forms of scams that even our artists and celebrities openly celebrate quite a number of internet fraudsters.
The attendant impact of this yahoo boys scourge is on the entire structure of the society. As a matter of fact, if proper research is done; quite a number of hospitality centres depend on this illicit sector to survive.
What kind of job will a boy who made millions before graduating from high school do in the event that the millions stop flowing? Even parents are now encouraging their children to learn fraud. Girls who have never worked a minute in their entire life to earn a dime carry around the latest iPhone worth hundreds of thousands of Naira; in most cases, funded by yahoo and/or benefit boys.
In some states in Nigeria, yahoo boys even use policemen as escort for their outings or convoys. I have witnessed this in Ado Ekiti, the Ekiti state capital.
Everyone has a role to play here. The government must embark on deliberate policies that will create a paradigm shift; where those among them with IT skills can thrive, while those hell-bent on pursuing a career in fraud; should be tracked through a sophisticated procedure of intelligence gathering, as done with Instagram celebrity, Raheem Abbas aka Hushpuppi.
By the government, this means all of them, particularly state governments in the South. We should create and create IT hubs, amend relevant laws that will protect freelance IT gurus from exploitation and; in addition, the federal government should use fitting policies and diplomatic mechanisms to remove all barriers hindering Nigerians from benefiting fully from the multi-billion-dollar sector.
Also, our musicians have a role to play. If you are indeed keen about political reforms, you must tackle social issues. These include vote-selling and internet fraud. Stop glorifying drugs, fraud and other social vices. You can condemn fraudsters and at the same time criticise police brutality.
The truth is that, the approach used by SARS is unjustifiable. But we must admit that we have a problem. Our ability to progress as a nation is dependent on getting our workforce into productive engagement. Yet, funds from illicit activities wreck more havoc than the Dutch disease.
How would you succeed in encouraging a young man to take up a job that pays N70,000 per month and work his way to the top when his colleagues are making millions on their laptops? That will be a tough job for anyone.
As a society, we must strive to end most social vices such as; human trafficking, corruption, impunity, fraud, mediocrity and others. We are not going to be able to achieve it all. But you  can rest assured that reducing all these to the barest  minimum will have a significant impact on our society.