At least one primary school pupil and other students have been confirmed among the fatalities in the ghastly fuel tanker explosion in Lokoja, the Kogi state capital.
The incident occurred on Wednesday, September 23, 2020.
1st News had reported that the explosion occurred in the Felele axis of Lokoja after the driver lost control of the tanker when his brakes failed.
Over five vehicles were completely burnt in the road crash; with eyewitnesses disclosing that some of the victims include students of Kogi Polytechnic.
Now, it has emerged that some primary school children may have been killed as well. At the last count, about 25 charred bodies have been recovered from the scene of the explosion.
Sector Commander of the Federal Road Safety Corps (FRSC) in Kogi State, Idris Fika confirmed 23 casualties on Wednesday.
Eyewitnesses say the accident occurred after a truck laden with Premium Motor Spirit lost control; following a brake failure and rammed into five other oncoming vehicles.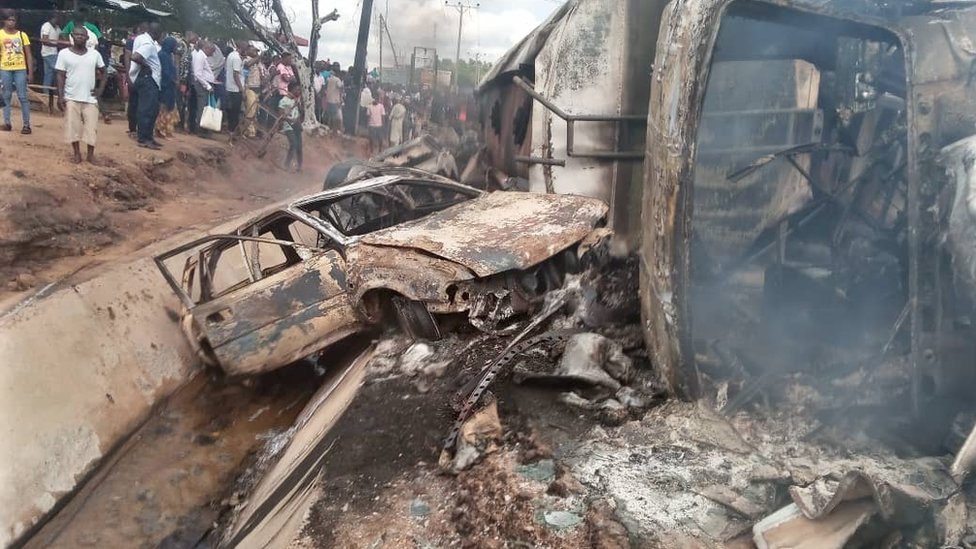 Also, people on ground say over 50 people may have been killed in the blaze; including some residents who were waiting to board commercial vehicles by the roadside. Also killed was a group of people who were trapped inside their car.
In his reaction, Governor Yahaya Bello had expressed sadness at the event. This was contained in a statement issued by his spokesperson, Onogwu Muhammed.
Bello expressed his condolence to the families of those affected by the occurrence.
"It is very sad to learn of the tragic loss of lives, many vehicles, property; as well as other valuables in the petrol tanker fire," he said.
Further, the governor had urged the students of Kogi State Polytechnic to remain calm and peaceful; stating that he shared in their grieving moment over the death of some of their colleagues in the disaster.