It's scary the length at which people will go for money and power. This can be the only reason for Igwe Olaiya and his naked incantations at the beach for Bola Ahmed Tinubu.
He posted same on his Instagram handle @olaiyaigwefilms last week.
Before his nude post, to the best of my knowledge, the Yoruba actor hadn't lost his mind. Then I checked to find out if this naked show of shame is part of a promo for a new film…no, it isn't!
The last time I read about elders stripping naked to petition anything; government or god, was in history class years ago. The Aba women's riot of 1929. Then, the women were said to oppose being taxed by the British government. This anger, this vehemence displayed by our mothers back in the day ensured their petition; though it came with some loss of lives, was respected by the British authority back then.
Then in 2022, we get confronted by another elder, a lone wolf; stripping himself naked to petition the gods/goddesses of the sea. Yeah, some would say he called on Olodumare, God in Yoruba language. I honestly doubt he is calling on the Supreme God.
The One who is not mocked nor would see white and call it black for the sake of a few pennies.
Igwe Olaiya must have petitioned the gods and goddesses that rule the air and the sea; Olokun, the god of the sea, Oya and Sango; as evident by the thunder and lighting effects in the video. Add Yemoja and Osun…both of whom are water goddesses…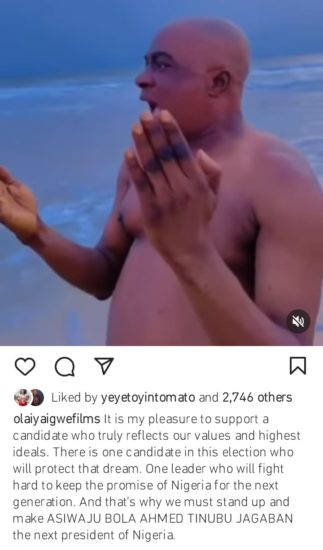 But the gods must be crazy to hear a partial appeal.
When an elder goes butt naked to petition the gods about a candidate without recourse to what is true;what is fair and what is right, that elder will be the BUTT of internet jokes…
And so it is for Igwe Olaiya.
You should read the thousands of comments to his video…it is embarrassing.
He was called a thief, a grandpa who because of what he would eat is blind to the truth…Go read yourself.
If for instance, he went to the beach to pray for the best candidate to win, seeing as it is, at 70years; his children and grandchildren may have nothing left of a nation stripped bare by corruption, ineptitude, nepotism…add insecurity; throw in successive bad leadership…then Olaiya's naked petition might have some merits.
We would sympathize with him for being so moved to see this nation rise again; to see things better, so our youth will not continue to japa…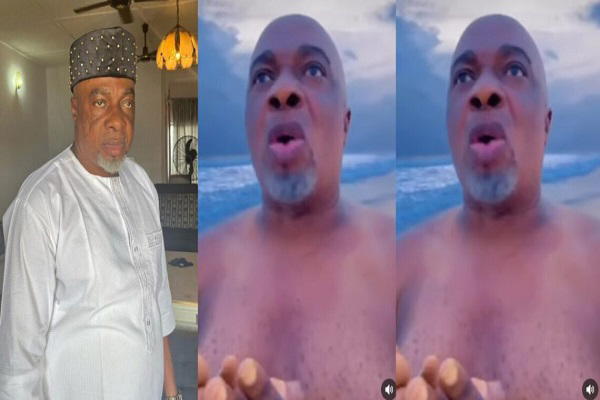 But no,Igwe Olaiya had gone to the beach to petition the gods for Bola Ahmed Tinubu's victory at the polls.
Just like that?
What about holding past and future candidates accountable?
What about ensuring structures are in place for a better society?
And what about asking the gods to help with the menace of kidnapping ravaging the nation; from north to east and especially the southwest now?
What about asking for systems in place for youth employment?
Will people not need to be convinced Bola Ahmed Tinubu qualifies for their votes?
Igwe Olaiya's nakedness is embarrassing; not just to his family, to the Yoruba race in general.
Baba, ki lo de? Why did you "naked" yourself for small, small children to insult you? You not only showed us your colourful butt, you posted it, haba, grandpa!
Anyway, enough said already in the comments section to that post. But maybe Igwe Olaiya has gone nuts…Speaking of nuts, we only saw his butts, not the…erm.
Ok. I mean, what do you expect? He went butt naked online and expects we don't want to see his shriveled nuts?