Netizens have arrived at a conclusion that Bobrisky will feel attacked after actress, Tonto Dikeh revealed some unthinkable things celebrities do to depict the lavish lifestyle on Instagram.
Tonto Dikeh who took to her Instagram page to pen a lengthy note about fellow celebrities and the fake life they live on the gram disclosed that a lot of unpopular individuals are richer than these celebrities.
She revealed that some of them go as far as borrowing money from Mallams to flaunt on Instagram while others borrow their friends' houses and cars just to show off. She further advised internet users never to feel oppressed or depressed by the activities of these celebrities as a majority of them are fake.
Captioning the post, she wrote:
"My 2cents…
I can introduce you to the Mallam/Banker who RENTS for someone I use to know🤣🤣
#PS I meant jokes on the arrest but my information is VERY VALID..
Don't make anyone make you feel like you are not blessed enough or You are a failure.::
Understand that we only show what we want you to see and 70% of the time the braggers are more fake than my BUM
I don't care who this hurts or exposes or attributed to, I am speaking to my fans on truth I know and they don't, Mary had a little lamb Bayo🙄"
See the post below: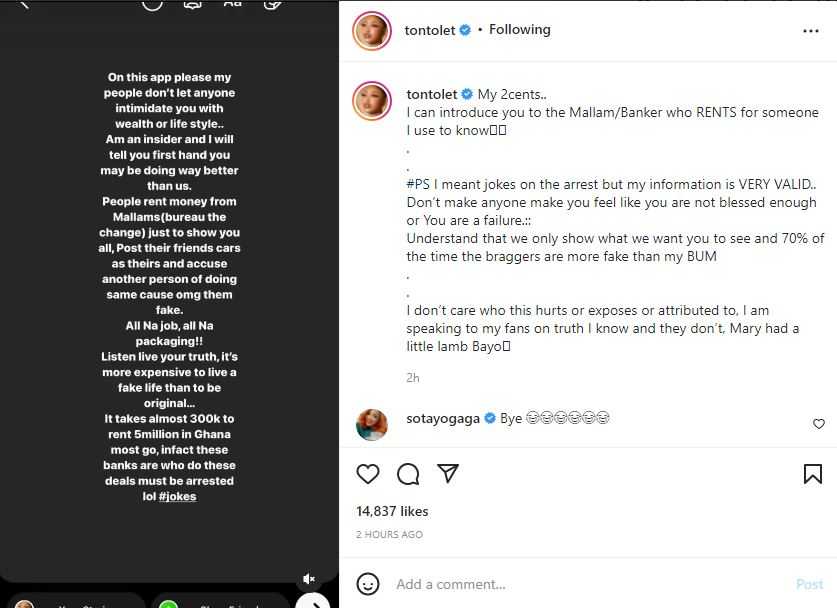 Reacting to this, social media users have concluded that this is a direct shade to her ex-bestie, Bobrisky.
Also Read: Tonto Dikeh's son, King Andre, bags endorsement deal with beauty product brand
See reactions below: