The UEFA Champions League draw was held on Thursday and it has thrown some blockbuster ties.
The draw sees two of the best strikers on the planet return to their former clubs after massive summer transfers. Robert Lewandowski and Barcelona take on Bayern Munich. Likewise, Erling Haaland will also visit his former club, as Manchester City was paired with Borussia Dortmund.
Group A promises electrifying atmospheres at all four venues, Liverpool vs. Rangers in a "Battle of Britain" quickly grabs the viewer's attention. The other teams in the group are Ajax and Napoli.
Meanwhile, in Group B, Atletico Madrid will be pleased with their draw. Diego Simeone believes that Spain should be the group's favourite. However, the battle for second and third will be thrilling.
Barcelona and Bayern are placed in Group C, which may have described as a group of death. Italian powerhouse, Inter Milan, are also included in this group. Czech Republic's Viktoria Plzen is the other team that makes up the group.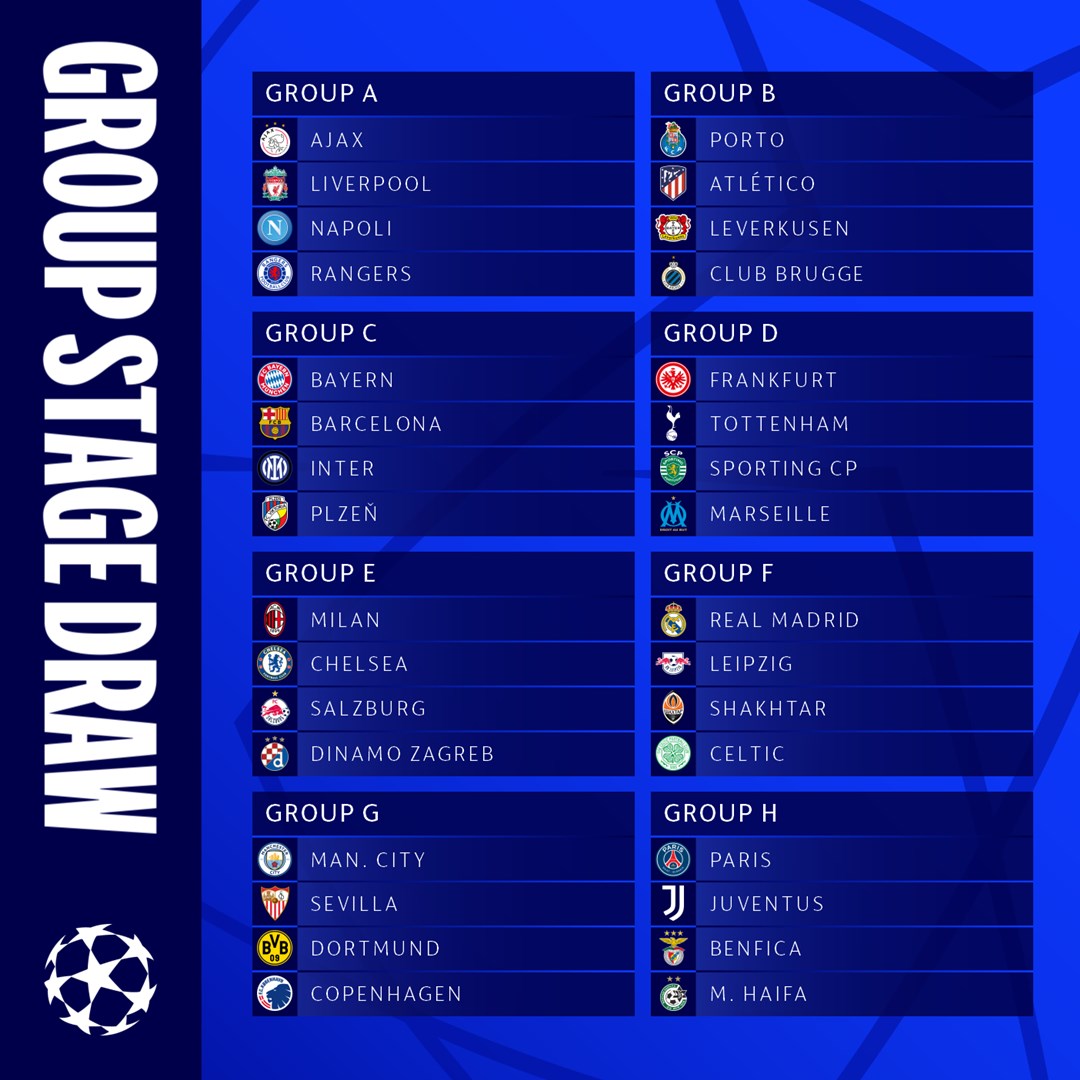 In Group D, Spurs and Antonio Conte will be ecstatic about their matchup with Eintracht Frankfurt, the Europa League champions. They wouldn't have prayed for any of the other Pot One heavyweights. Notwithstanding, each of the four teams will have a chance to advance. Sporting C.P. and Marseille make up the group.
Group E will see Chelsea enjoy a reunion with Fikayo Tomori and Olivier Giroud when they face AC Milan. This matchup appears to be between the two teams that will advance to the knockout stages. The other teams, Red Bull Salzburg and Dinamo Zagreb will hustle for 3rd place.
The defending champions, Real Madrid will be happy with their group. There also promises to be a real battle for second-place in Group F. RB Leipzig, Shakhtar Donetsk and Celtic make up this group.
In Group G, Erling Haaland will head back to Germany to face his former club, Borussia Dortmund. This is a more than satisfactory group for Pep Guardiola's pre-competion favourites. Dortmund, Sevilla and Copenhagen will scramble for second place.
Lionel Messi, Kylian Mbappe, Neymar and Paris Saint-Germain also have a fascinating draw as they've been paired with Juventus, Benfica and minnows Maccabi Haifa in Group H.