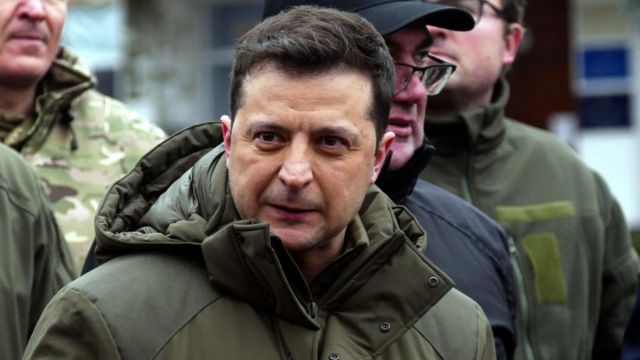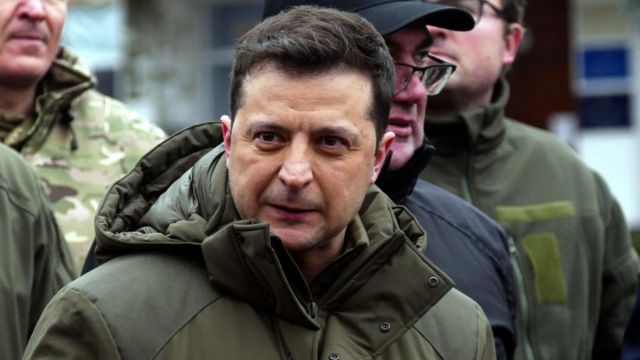 When the name Volodymyr Zelensky comes to mind; a picturesque of a brave and gallant defiant wartime Leader who never showed any act of cowardice for any reason in defending the people of Ukraine from external aggression.
From playing  the role of  a high school teacher who is thrusted into the Ukrainian presidency in a movie; Zelensky was inspired to make it a reality when he contested for the Presidency in April 2019 and won in a landslide victory.
The satirical movie icon turn real Life President; has won the heart of many admirer for his bravery of resisting a Russian invasion on Ukraine
Volodymyr Zelensky again found himself in front of a lectern Friday; but the picture he outlined in the show's final moments; has never felt further away after Russian forces invaded Ukraine Thursday.
The battle for the capital, Kyiv, continued to rage Friday. explosions lit up the sky as the Kremlin targeted the city with missile strikes before dawn; forcing people into air raid shelters.
In his Friday morning televised address, Zelensky was again a man in character; this time playing David to Russian President Vladimir Putin's Goliath.
In a dark green tee shirt with dark circles under his eyes; the Ukrainian president struck a defiant tone and praised the country's armed forces for "brilliantly defending the country."
"Now is an important moment," Zelensky said. "The fate of our country is being decided."
Zelensky has also been active on social media, using his Twitter account to post updates and reassure Ukrainians that he is staying in the country to lead the resistance.
In a video posted on Saturday morning titled "do not believe the fakes,"  Zelensky revealed that he is still in Kyiv.
"I am here. We are not putting down arms. We will be defending our country; because our weapon is truth, and our truth is that this is our land, our country, our children, and we will defend all of this," he said.
"That is it. That's all I wanted to tell you. Glory to Ukraine," he added.
Zelensky has also turned down a US offer of evacuation from Kyiv, the Ukraine embassy in Britain said Saturday on Twitter.
"The fight is here; I need ammunition, not a ride,"  said a determined Zelensky to the US, according to the embassy.
"Ukrainians are proud of their President," the tweet adds.
However, intelligence officials in Washington are concerned the city could fall under Russian control within days.
State Department spokesman Ned Price said Zelensky remains a "prime target for Russian aggression," while Zelensky himself said Russia had marked him as their "number one target."
"They want to destroy Ukraine politically by destroying the head of state," he said.